WILD ESSENTIALS™ 60 PACKETS.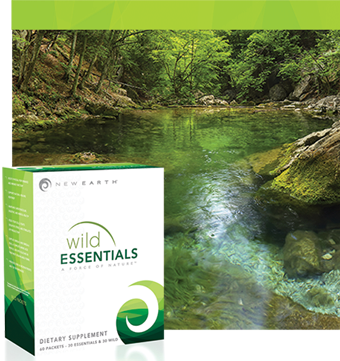 Algae and mushrooms are nature's two great alchemists, the prime movers of our planet's ecosystem. They literally are Earth's First Foods™ and science is showing a vast array of benefits including:
Boosts physical performance and immune function*
Feeds your cells, fights oxidative stress, and stimulates ATP production*
Supplies Omega-3 and Omega-6 EFAs, a complete amino acid profile, and beta glucans in their most bioavailable forms
Provides over 60 micronutrients and 130 triterpenoids
These foods transformed a planet, imagine what they can do for you.Each box contains 60 packets
Each Essential packet contains: 1 Wild Bluegreen Body, 1 Wild Bluegreen Mind, 1 Acidophilus, 1 Bifidus, and 1 Enzymes. Each Wild packet contains: 3 Wild Water, 3 Wild Earth, 3 Wild Forest.